6 Real Reasons Why You Need to Hire a Wedding Planner ASAP
You have that sparkly diamond on your finger, and now the real fun begins—wedding planning. Maybe you've been a bridesmaid a time or two before and you feel like you've got the right amount of experience on your side to take matters into your own hands.
I mean, how much work can it really require? Your dream wedding is basically mapped out on Pinterest already, and as long as you have everything ready before the big day, it's smooth sailing, right?
Not quite. There's so much more to it than that (and a lot you might not have even known was going on behind the scenes at weddings you've been a part of). So if you're still on the fence about a particular vendor to hire ;), here are the real reasons why you need a wedding planner on your side ASAP.
A planner will be your trusted sidekick.
"Not everything went as planned, but McKenzie was proactive in confronting any issue and resolving it quickly. Other than McKenzie and myself, no one would have known there was ever an issue. We were able to leave the venue feeling completely confident that McKenzie was in charge." - Ashley, MPE Bride
While you may be hesitant to make room in your budget for a wedding planner, we can actually help save you money and stay within your spending limits. That's because we're here to serve as your voice of reason if you're considering splurging on something like 200 tealight candles, and we've got your back if something goes awry. Remember, we're your biggest advocate and want the day to go smoothly. Yes, just as much as you do!
A planner will keep your vendors on point.
"She did a great job coordinating our day-of details and managing all of our wedding party and vendors. I cannot recommend McKenzie enough!" - Michelle, MPE Bride
You're about to be pulling an entire team of vendors together to make your dream day come true—from a photographer to a DJ or band, florist, caterer, bartender, videographer; the list goes on and on. On top of your long list of to-dos at work, do you really want to be the one to manage all of these people? I didn't think so.
That's the planner's role. We can organize and coordinate their schedules (such as arrival times on the day-of and reception activities) and also follow-up with them the week of your wedding to ensure they have all the details and everything they might need. Ultimately, no one should be able to ghost you!
A planner will provide a wealth of inspiration & advice.
"She offered great suggestions for other vendors within our budget, and was a great go-to guide for any help I needed during the planning process." - Jessica, MPE Bride
Need someone with industry experience to bounce ideas off of? Well, you're in luck. While you may have a vision in mind, we can help bring it to life because we've basically seen it all through many different weddings and events we've planned.
Dreaming of DIY-ing a photo backdrop or florals, for example? We'll point you in the right direction because, chances are, we've worked with a bride who did something similar. That way, you can save hours researching and creating, and make it happen.
A planner will map out a custom timeline & day-of schedule.
"McKenzie is so organized and her timeline worked out flawlessly for us." - Jamie, MPE Bride
Want to know the secret to a stress-free wedding? A timeline of events! In creating this, however, you may feel the weight of having to pull all the details together to develop a seamless outline. And that's where a wedding planner comes into the picture.
Based on the specific vendor team you've pulled together as well as unfamiliar must-haves you may want to incorporate (think travel time from the ceremony to venue location, blessing of the food, etc.), we'll map out a custom timeline and day-of schedule to keep things on track.
The schedule for the day, however, is simply an outline. But, the goal of this outline is to allow you to enjoy the fun-filled activities of the entire day—getting ready, marrying your best friend, dancing the night away with family and friends, throwing back the last drops of champagne, and leaving the venue as newlyweds to begin this next exciting chapter of your life together!
A planner will coordinate the entire day (not just a piece of it).
"During the day, they made sure everything was perfectly ready and at night they were constantly in the background assisting with everything from making sure my glass was full, to making sure everyone got a piece of cake, and clean up too." - Michele, MPE Bride
Are you planning on breaking up the day into different venues for your ceremony and reception? While some venues come with their own coordinators, keep in mind that they'll only be responsible for the specific details they'll be providing, such as food, space, and rentals. For that reason, they'll most likely not be focused on helping you juggle all the finer details (ex. Delivering final payments to vendors, clean-up, loading up gifts for transportation, etc.).
On the other hand, a wedding planner will help with all of those things and more, depending on your needs. Here at McKenzie Phillips Events, while we offer three particular packages, we also have a list of a la carte services to make sure all the bases are covered.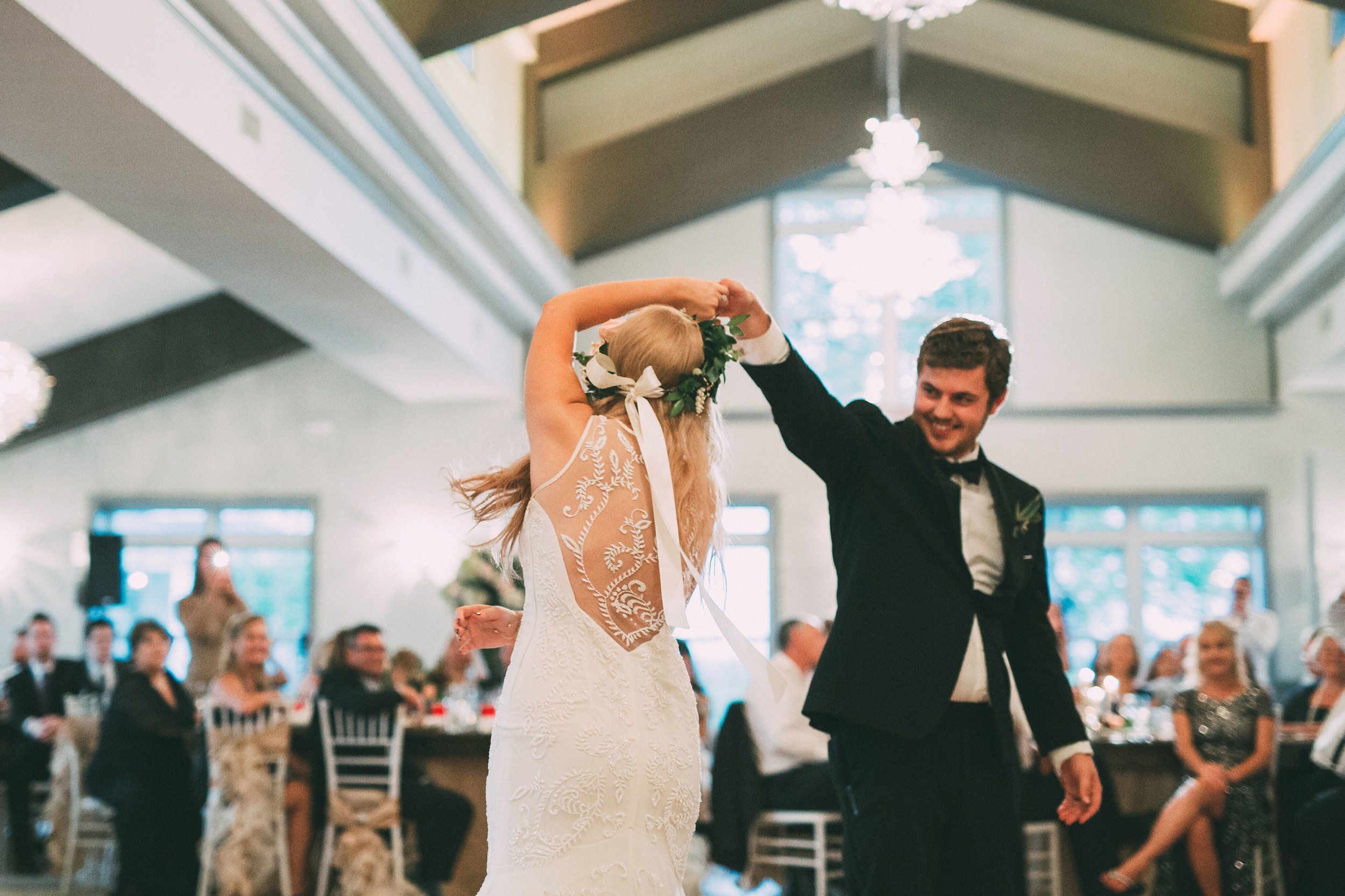 A planner will allow you & your wedding party to truly live it up.
"I had the best day of my life, and it's because I didn't have to worry about a thing! Initially, I didn't think I needed a coordinator, but I am so glad I spent the extra money. Do yourself a favor and book McKenzie. Your wedding day will be so much more enjoyable! :)" - Emily, MPE Bride
When your wedding day finally arrives, you are there to get married to the love of your life, and your family and friends are there to help you celebrate. Not be the point of contact to direct vendors or flip the event space. Having a wedding planner on your side will guarantee you can sit back and live these once-in-a-lifetime moments up with your favorite people!
Now, are you ready to hire a wedding planner to make your dream day come true? Give McKenzie a call at 913-207-9288 or click here to send a note. The MPE team offers a range of wedding coordination packages to assist with organizing and managing the celebration you've always envisioned!